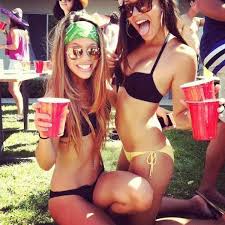 We all enjoy living, working and traveling through paradise. We love the sand between our toes, the feel of the salt on our skin after the sun dries us off, and we love seeing sea turtles enjoying and sharing the sea with us. But, part of this lifestyle inevitably involves a plethora of fruity concoctions. From Mojitos to Daiquiris and from Mimosas to Rum Punch, we definitely enjoy the social drinking atmosphere as well. It's so important that we do our part to keep it beautiful.
Have you ever been caught up in the moment and left your drink next to your towel in the sand? Maybe it was just for that quick selfie with the girls. Maybe that quick game of Polish Horseshoes distracted you longer than expected. That's more than enough time for your straw to get knocked out of your cocktail into the sand. Maybe, you just got too busy and your drink got warm. Then, you head to the bar, throw away the plastic cup AND the straw together, then get another plastic cup AND straw from the bar to replace it.
There are solutions for this, while raising your cool factor on island and at the beach.
1) Plan Ahead
I know, I know… This is easier said than done after a full day on a boat and then the unbeatable deals during happy hour, but try to think of it this way; If you know you're heading out for a day of imbibing, bring your metal straw with you and grab a hand full of paper straws for your friend to throw in your bag. It's really easy… They are available online and also make a great gift.
2) Sex Sells
There's so much effort made to find that guy or gal to flirt with and hook up with! What if you decided to make it sexy to save the turtles? Here's how: The next time someone offers to buy you a drink, tell them to reuse your cup and don't accept one with a plastic straw. Don't just brush over it, really make a statement. The next time that person goes to buy an island girl or guy a drink, it will be on their mind AND you just saved a turtle. Oh, and definitely don't go home with anyone that uses plastic drinking straws!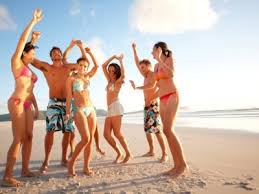 3) Love Your Vessel
Get a customized cup that you can take to the bar. This should be the appropriate size for the drinks you normally get served at the bar. For instance, if you live in Key West, Fl and you typically get a couple cocktails after work at the local, gravel floored sailor bar in Key West Bight, then don't try to order a rum drink in a 20 oz water bottle. Instead, get yourself a 12 oz vacuum formed cup and customize it with a phrase or your name. Some companies offer this service when you place your order. This can become fun and something to show off to friends and tourists. If you get one with a lid, it will eliminate the desire for a straw.
4) Pack Mule Method
Most island peeps and beach bums carry a back pack or some kind of bag with us. Especially, people that work on a boat or bike/walk a decent distance to work. A pack allows you to carry your water or drinks in your own vessel. You can pack food which saves waste from take-out plastic forks, and you can pack disposable straws or metal straws in a side pocket for that frozen cocktail on your lunch break.
5) Create a Stigma
Don't let anyone tell you that you're being ridiculous about your display of love for the ocean. Most likely, if they don't feel as much of a desire to save the ocean as you, it's because they simply haven't had the same experiences that you have. This doesn't mean you should be rude or confrontational with them, it is simply an opportunity to explain the importance of reducing the use of plastic drinking straws. It's not a call for an all out war on environmentalism. Just give them one easy thing to focus on in their daily lives. Then, when enough people agree, there will be a stigma surrounding straws that will end up reducing the demand and allow safer alternatives to enter the market.
Bar Owner Special!!!
Do you want to make a statement and bring in the '
Green'
customers, while reducing your overhead on consumables? Start with this item below!